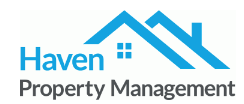 CONCERNED ABOUT GETTING THE WRONG TENANTS FOR YOUR NELSON RENTAL PROPERTY?
Not all property management companies go as far as we do to avoid bad tenants. With 15 years of experience, we are Nelson's leading experts in finding great tenants. Get in touch today and ask us what we do differently to find great tenants. 
"Finding good tenants and sorting out the inevitable problems that arise while renting your home out can be a real headache, especially when it's an already super stressful time packing and shifting.
Haven Property managers took an enormous load off us just when we needed it. Jeanette found us the perfect tenants after meeting us and knowing what our home needed. Anything requiring a tradesperson to fix is quickly run by us via email, organised and paid for via their efficient system. Haven have a great suite of trustworthy and efficient tradespeople to call on that won't leave you with any nasty surprises either, even if you're living half a world away. Having Haven Property Management taking care of our home and tenants has been refreshingly easy and hassle-free at a surprisingly low cost! I feel confident and happy leaving our place in their hands" Ellie Watts Property Owner, Cawthron Scientist now based in Norway.
WE KNOW PROPERTY OWNERS
At Haven Property Management we own properties ourselves which gives us a unique advantage over other property management companies … we know exactly what you want to know and how you expect your properties to be managed and maintained, because we expect the same for the management of our own properties.
Haven Property Management is run by property owners for property owners.
EXPERIENCE We are rental specialists with real experience – we know our stuff. It is amazing the variety of skills and expertise we need to successfully look after and care for your property.
EXCLUSIVE We focus exclusively on property management – no sales. So there are no hidden agendas – we just manage properties, and we do it well.
SELECTIVE The trick is to find the right tenant for your property. We personally check every reference and credit record.
COMMUNICATION We're helpful friendly types, so if you need some advice, or just feel like a chat, drop in for a coffee or give us a call.
MARKETING We reach the widest possible audience by presenting your property on our tenancy database, Haven Property Management website, Trade Me and Realestate.co.nz, and local advertising via our office and newspapers.
INSPECTIONS We check your property every 3 months and keep you up to date with a report including photos, maintenance and general information.
VIEWINGS When your property is being advertised for rent, we personally show every potential tenant through. That means we can present all the features your house offers, whilst keeping your property secure.
MONEY We deposit your rental income into your bank twice every month, and give you a statement. We can help with your end of year tax returns by giving you a Year End Statement. It's all about making it easy for you, and leaving us to do the work. You can log in to your account and view your statement and latest rent payments wherever you are in the world.
We aim to provide an outstanding level of personalised service, efficiently servicing both our owners and tenants.
Our passion, excellent service and management systems ensure that you will receive comprehensive management for your property, with the priority it deserves.
Talk to us today -->>